Women leading the way in design and tech — Code for Australia style
28 November 2021
It's been almost six months since our last update on our Gender Equity work (you can play catch up here if you missed our last post). When we last left, we had planned to keep chugging away at our Gender Audit to-do items, hold some women-focused events and come up with some ways to attract more women developers.
So how did we do and what have we learned? Read on to find out what have we been up to over the past few months…
Events, Events, Events!
We've run three events over the last six months and each and every one has been amazing!
We started with our Women Leading the Way in Design and Tech event. We had four unique and interesting panelists who offered their perspective and advice on gender dynamics in design and technology, recommendations to support women in these industries, and shared their own personal career journeys. We also allowed lots of time for the wider group to discuss and share their experiences as well. Feedback was so positive that we decide to do another one which we just wrapped up.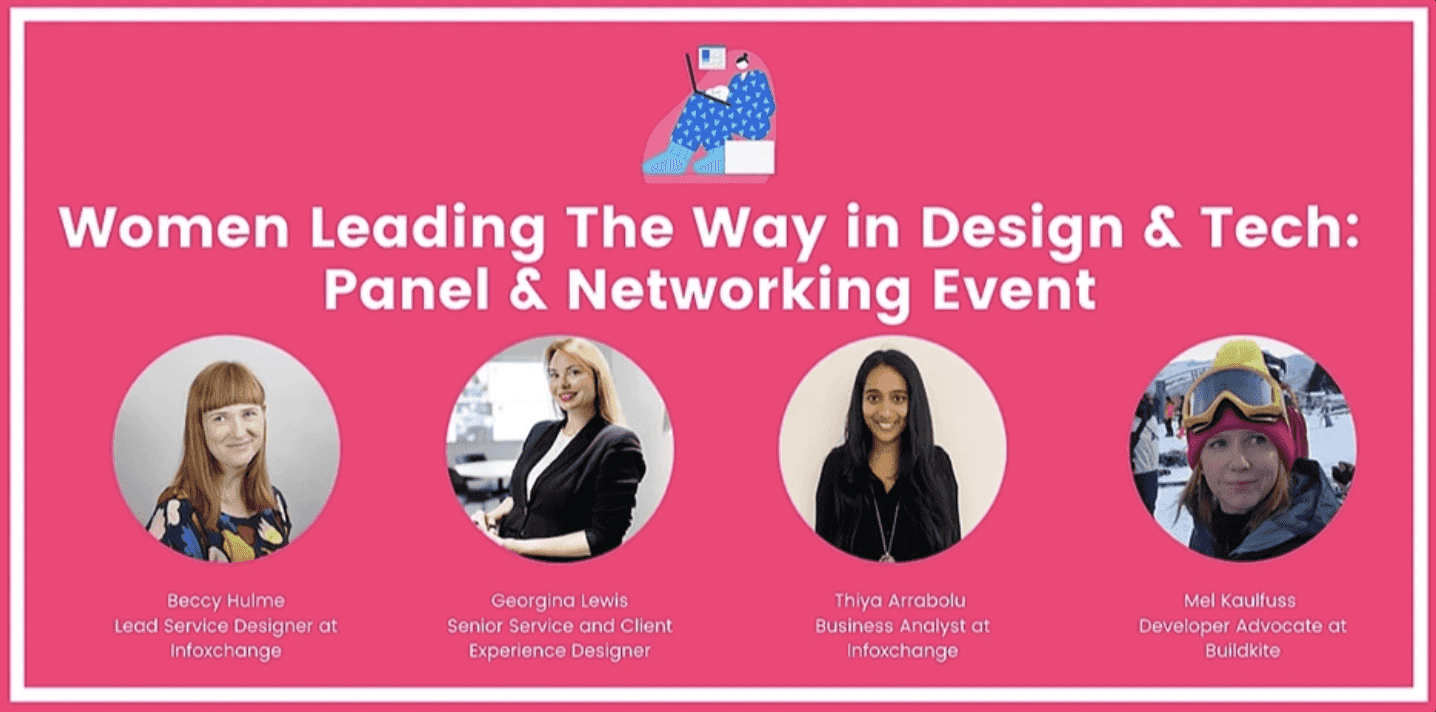 Our second panel event was a little different. For one, while it was the right decision to create a safe space by making our first panel event women's only, we decided to open up our second event to everyone — especially as we had so many allies who wanted to come along and learn!
We also decided to partner up with General Assembly for this one. We found that women early in their careers got a lot from our previous event so we figured we would go directly to the source. It was great to be able to share some tips and tricks with those just starting out. Topics ranged from what to look for in an employer to how to be an ally to your colleagues.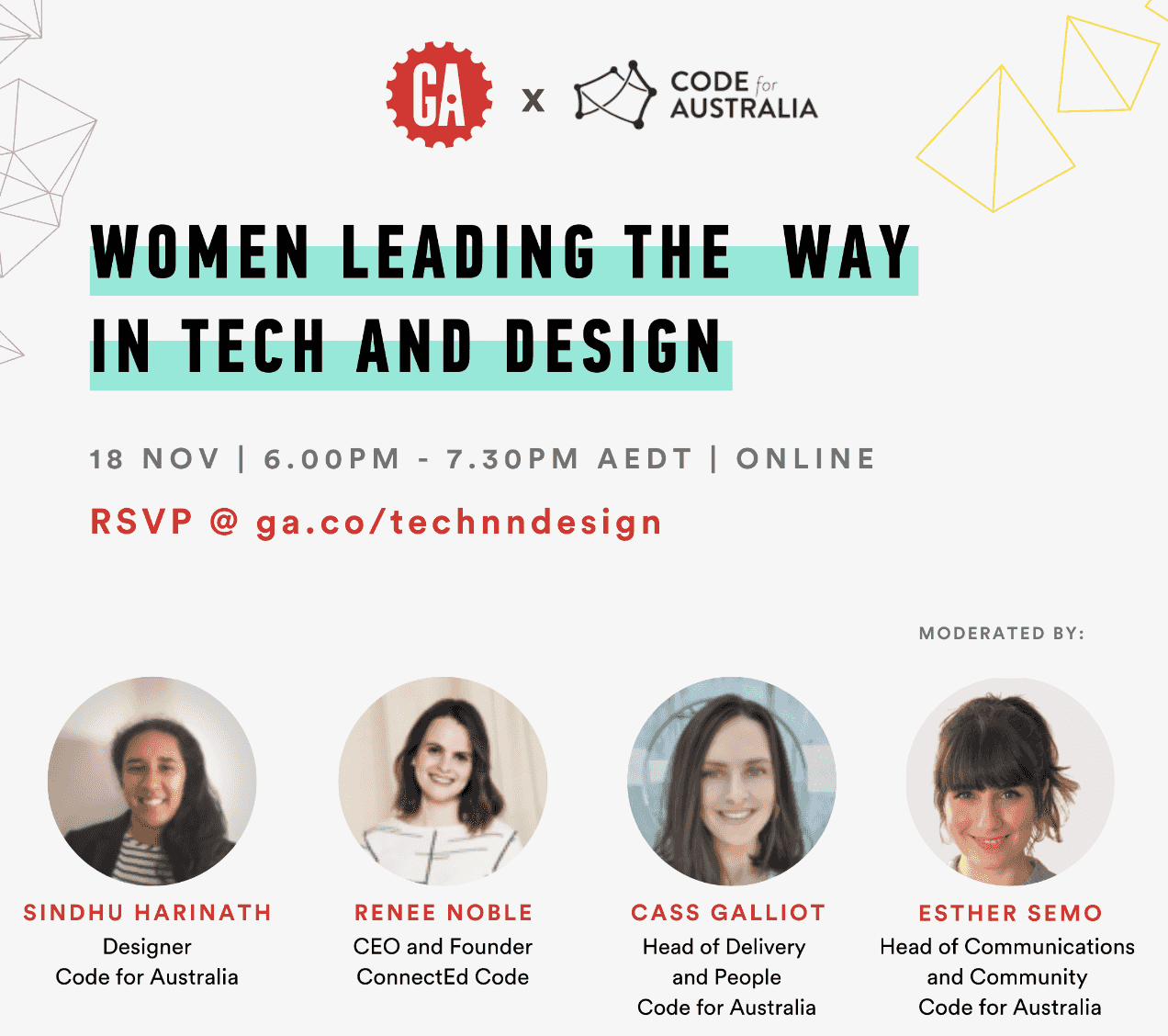 In addition to these panel events, we also supported one of our very own team members, Sindhu Harinath, to guest present a workshop for the Women Who Code Melbourne network. Sindhu facilitated an amazing hands-on design process workshop and it was considered one of their best ever sessions!
We're so happy we could provide these opportunities for people to come together and support the talented women in our community. We're also hoping that these events help spread the word about who we are as an organisation and that talented female developers and technologists consider us when looking for new roles in the future.
Our women's Slack channel
We've reinstated our women's Slack channel and have been so excited to have more and more amazing women join us there to share, ask questions and keep up to date with events and opportunities. It's still a work in progress and we would love to see it become more active, but it's been great to have a space for our existing community members and new ones who've come from our recent women's event join us there. Any women-identifying folks keen to access the channel can join us using this link.
Base Team Gender Training
One of the bigger items on our Gender Audit to-do list was having our Base Team undergo gender-focused training. We think it's important to not only have good intentions but also be well informed.
After some research, we decided the "Bystander Action in the Workplace" training provided through Women's Health Victoria was the best course for us. The online course provided vital contextual information around gendered violence and its causes as well a lot of practical tips and actions we can and should take in the workplace. These included broader recommendations to create a positive workplace culture as well as what to do should an incident ever arise. While we're proud to be an inclusive and supportive organisation, it's still necessary to be prepared and have properly trained staff ready to respond.

What's Next?
Our events have been great for participants but also a valuable experience for our presenters, so we'll definitely be planning a variety of them in the new year. We also have a few more items outstanding on our Gender Audit list. That said, we'll be taking our time to ensure we get things right and be open to new ideas and pivoting when we need to.
But most importantly, gender equity isn't just about big initiatives and to-do items, it's about everyday behaviours and ways of thinking, as well as the broader organisational culture that sets the tone for them. So what's next is what's on every day — a culture of respect, support and empowerment that's evidenced by the actions of everyone on our team.
We'd love to hear what you and your organisation are doing in the gender equity space. You can reach out to us via Typeform, email or join our Slack.