Australian Digital Health Agency
Australian Digital Health Agency - Lunch & Learns
live
Health
Future Practice
Partner

Background
We helped the Australian Digital Health Agency gain a greater understanding of technical concepts through a series of monthly Lunch & Learn sessions.
THE ASK
The Australian Digital Health Agency's mission is to create a collaborative environment to accelerate the adoption and use of innovative digital services and technologies in healthcare. They manage platforms including My Health Record. Under the backdrop of COVID-19, digital health has seen exponential growth in relevance and importance, making it more pertinent than ever for all Australians and healthcare providers. The Agency's divisions include digital strategy, policy, services and engagement and their staff have wide-spanning areas of expertise.
The Agency were looking to build on their core competencies by offering all staff training to deepen their understanding of digital concepts, so we were brought on board to deliver monthly Lunch & Learn sessions throughout 2023. Topics include:
How to talk about tech

Human-centred Design

Accessibility

Privacy & Security best practices

Data Literacy, Management and Visualisation

Analytics for decision making

Online collaboration and facilitation

Working well with Delivery Teams
OUR APPROACH
Central to all of our educational offerings is creating a friendly and open environment for folks to learn, ask questions and bring real-world examples along to work through. The sessions create an informal and interactive atmosphere wherein people can ask lots of questions and build-up their knowledge. We start with the basics including asking (and answering) questions like, "what is accessibility?". We then build upon that knowledge through analogies, case studies, and even live demonstrations.
We invite all participants to add their unknown tech terms to our 'Jargon Wall', and explain these in the most relevant sessions throughout the series. We also shared supplementary resources at the end of each session, which allowed participants to go deeper on specific elements of topics they find most interesting or valuable in their work.

These Lunch & Learn workshops are run online for for 60 minutes per topic with each session offering a comprehensive introduction to a technical concept and content tailored around with the Agency's context.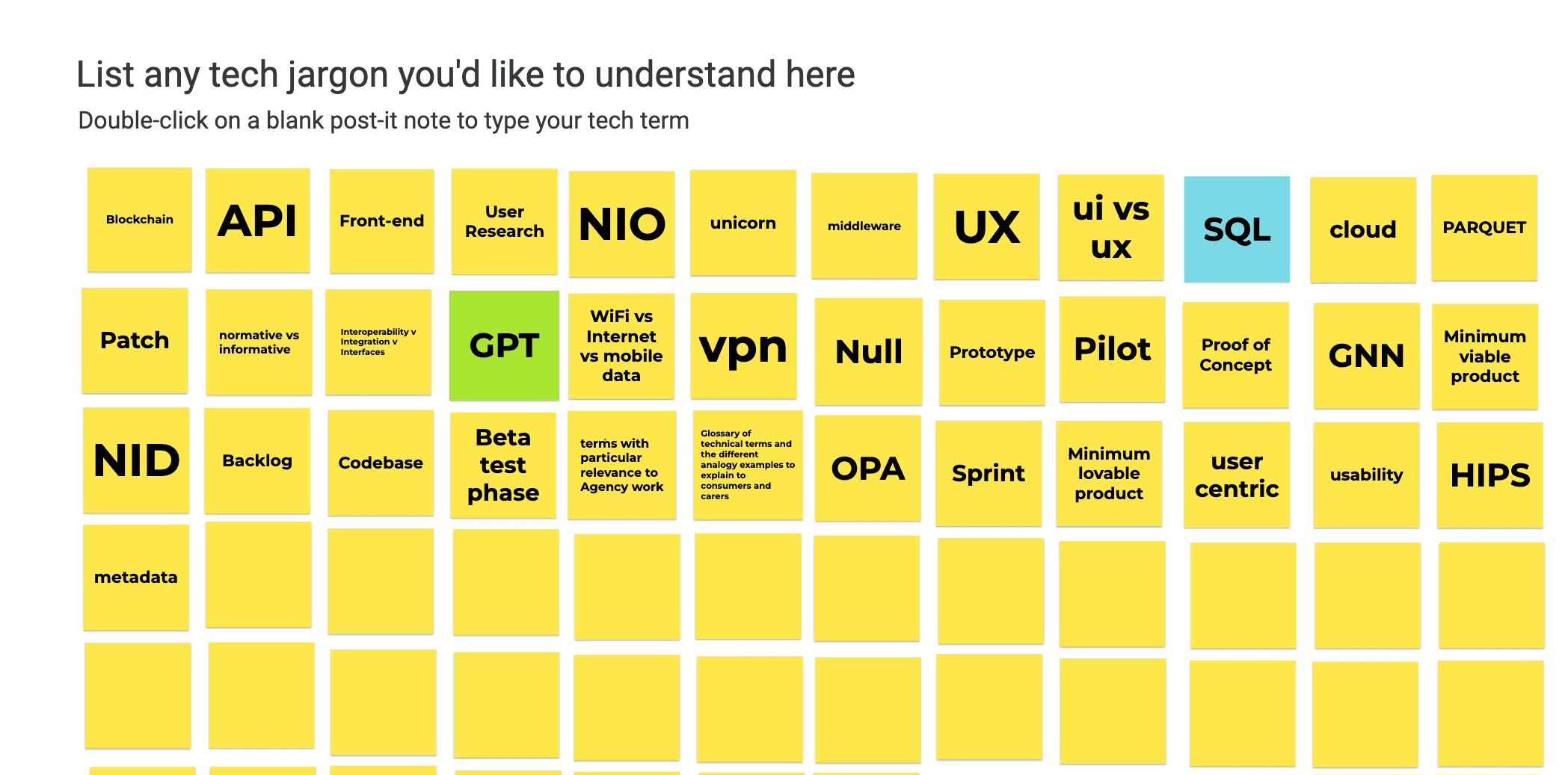 The 'Jargon Wall' where attendees can add their unknown tech terms.
"The presenter's knowledge of the topic he was delivering was perfect AND his ability to communicate the message was brilliant!"
Lunch & Learn Participant,
Australian Digital Health Agency
96%
Rated their session 'Very Good' or 'Good'
93%
Felt more informed about the topic due to the session

Learn more about Future Practice
Our three educational offerings that each play a role in increasing digital capability.