Talking About a More Digital Government: Episode 4— Damon Rees, CEO of Service NSW
29 September 2021
In the latest episode of our podcast, we speak with Damon Rees, the Chief Executive Officer of Service NSW, an executive agency within the Department of Customer Service that provides a one-stop access to government services online, over the phone and in-person.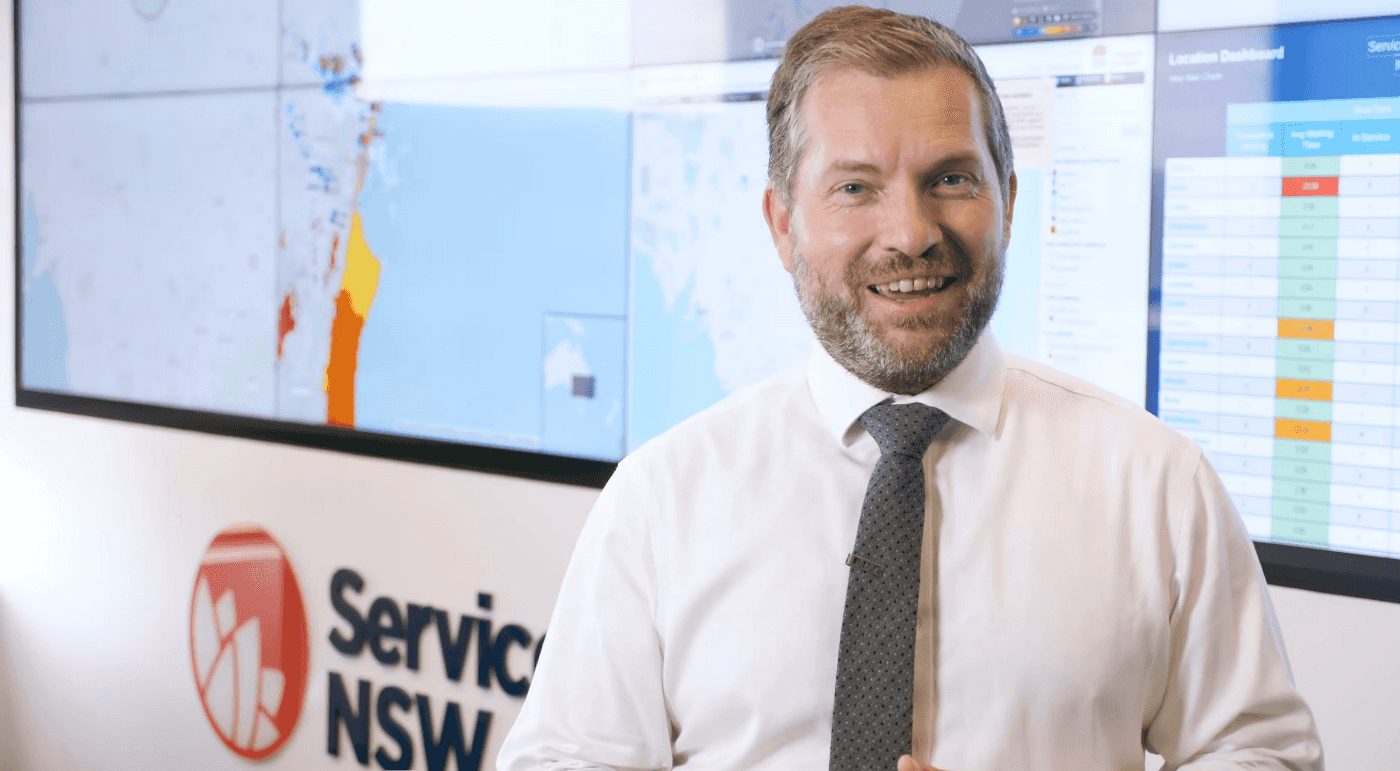 Damon Rees, CEO of Service NSW
Damon has led his team through some unprecedented times, from the horrific bushfires that have swept our nation, through to the current pandemic. All the while Service NSW have managed to innovate their ways of working and share their learnings along the way. We speak with Damon about what makes the team successful, the role digital has in service provision, and much more.
Listen:
Transcript:
A full transcript of this episode is available as a PDF here and in plaintext here.
"To me, success is not great customer service. Success is ultimately a great customer outcome."
Takeaways:
"Having great digital services enables us to use our incredible team for the things that are the most valuable work they can do. And as more of the straightforward, or simple, or commodity type things like renewing this or applying for that are done digitally, it frees our people up for those higher value offerings. The ones which need the empathy, which need the problem solving skills, which need the care and support that our frontline teammates provide."
"We might be able to focus on providing great customer service on our own, but we can't achieve great customer outcomes without really working with partners to optimise the end to end experience and the end to end value chain of what's going on."
"In the olden days we'd think, we can either give a great customer experience, or we can uphold some form of regulatory policy. And I think everyone is understanding actually, that's a false dichotomy. We can actually deliver a great customer experience and a great regulatory outcome."
"One of the things I love about public services, is you're not in competition with anybody and no one owns the customer."
"If you genuinely care about your customer, then you care about the quality of experience they have not just with you, but with, but with other organisations that play a role in their lives."
"We've valued for a long time, the agility that we need to have as an organisation in order to be genuinely customer centric. It's about listening well, and it's about being able to adapt well, as you get that feedback from your customers around where they need us to be different or better."
"In the last year and a half of COVID, and before with that the bushfires and floods — one of the things that's been required is a step change in the level of agility of Government to be able to navigate and adapt and respond."
"If you think about the experience that customers have of Service New South Wales, for a lot of their interactions, that experience is digital. And so the person that designs that experience, the person that builds that experience, the person that improves that experience — the product managers, the designers, the engineers — they are as core to our organisation as the concierge that greets you when you walk into your local Service New South Wales."
"Of course, there's still a role for partners when it comes to service providers, but it's a different role. It's not running and designing the core of our business, and it's certainly not coming in, doing something important, and then going going away."
"I think that's one of the great opportunities — if we can harness more of the incredible talent that's out there, for public good."
"We make mistakes, but we embrace that, we learn from them, we try and disseminate those learnings. We're never we're never pursuing perfect, we're just relentlessly pursuing better."
Resources:
Want to be a guest on this podcast?
We're always looking for folks working in civic tech and government to speak with about themes you're encountering or work being done. If you're keen to have a chat to us contact us at info@codeforaustralia.org
Check out more of our resources
Check out more of our resources